Audley Runnymede Commission
Two designs for a decorative grille for Audley Runnymede, a refurbished grade II Gothic revival mansion designed by F & H Francis and built in 1865. Once the location of the Royal Indian Engineering College and later Brunel University the site is now a retirement village, located in close proximity to Runnymede of Magna Carta fame and Windsor Castle. The rectangular grille is based on an amalgamation of maps of the area dating from the 17th Century with contours where the patchwork of fields surround the roads and highways. The rotunda design was inspired by ornamental gardens which surround the neighbouring Windsor Castle.
Stone Studios Gate Commission
Design for steel gates at the entrance to the new Stone Studios in Hackney Wick, built by Telford Homes as an integrated living and creative hub. The design is based on the many different phases that the area has undergone - from the largest sweet manufacturer in Europe, Clarnico, to the first plastics factory in the world, kitchen fittings, artists studios, to the arrival of the tech industries and the future. Wallis Road, which the site is being built along has had many incarnations and is held dear in the history of Hackney Wick. The gate design celebrates not only the history of the old Daro Factor warehouses, where the artist occupied one of the many studios previously, but also the community of Hackney Wick - from the boaters that live along the River Lea, to the artists, skaters, climbers and party goers who all frequent this vibrant part of East London. All are acknowledged and together the gate design opens the path for this newest incarnation of the site, now know as Stone Studios. Completed and installed December 2021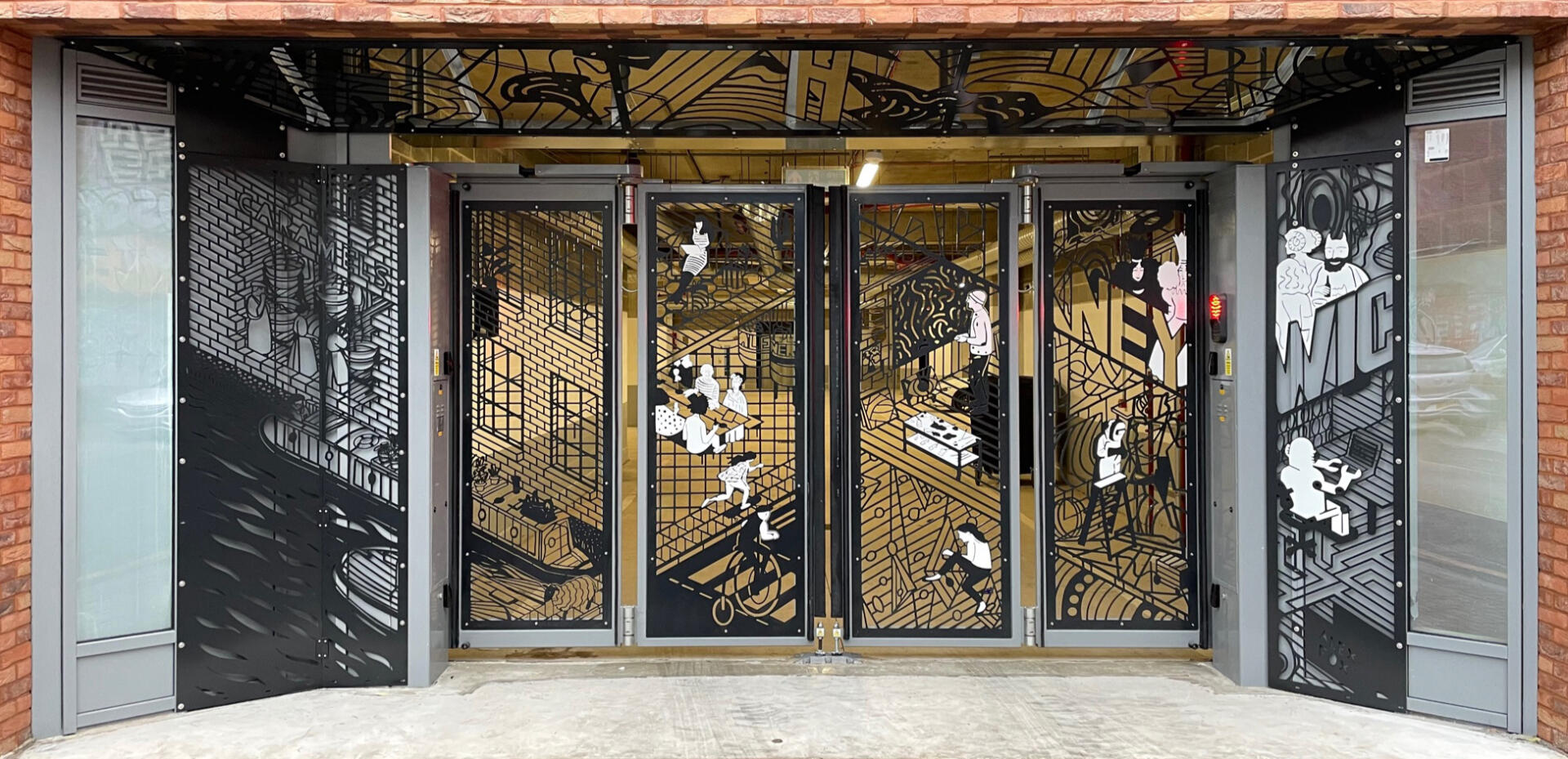 Amelia Scott Cultural Centre
The Amelia Scott, due to open Spring 2022, will be a £20m cultural centre in Tunbridge Wells housing a range of arts, heritage, culture and well-being services . The gates will form the front entrance to the complex and open out into a courtyard with the three main buildings left, centre and right. The brief for the gate design was to refer to the history of the surrounding countryside, specifically the Weald and the development of iron-making in the region from pre-Roman through to the 17th Century, as well as a reference to the Amelia Scott building itself. Devised of three double gates, each of the six panels tells the story of the Iron industry in chronological sequence, created with a combination of modern and traditional ironwork techniques. The gates are set to be made in March 2022 and installed April 2022.